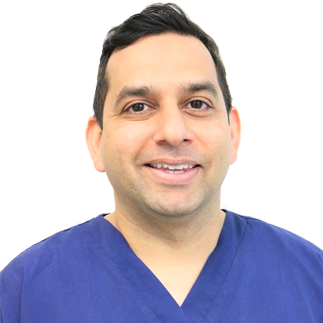 Dr Vikram Sharma
Principal Dentist
BDS (m'pal 2004) Dip DPH (Univ of Manc)
GDC No: 105783
Vikram has acquired a vast amount of experience in both NHS and private dentistry.
He completed his vocational training from Scotland in 2007 and has worked as an associate dentist in Stirlingshire, East Riding of Yorkshire, and Shropshire for over 9 years. Following on from this, he acquired this historic practice from Dr Renshaw & Rickinson. The practice has been on the same premises for over 125 years and was renamed Rosewood Dental Clinic Ltd, in 2016.
Vikram is currently finishing up his diploma in Dental Public Health from the University of Manchester. He is also enrolled onto a post graduate course in restorative dentistry and dental implants. Vikram is an Invisalign Go & Go Plus provider at Rosewood Dental, has a keen interest in carrying out root canal treatments.
A perfectionist by nature, he has great enthusiasm and a clear understanding of all aspects of General Dentistry. Especially popular with nervous patients, Vikram takes the time to understand his patient's needs with a gentle and friendly manner. During his time away from the practice Vikram enjoys shooting hoops with his little boy and strolling around the moors.
Back to Team